In a step to control the increasing vehicular pollution, Maharashtra Natural Gas Limited (MNGL) has introduced compressed natural gas (CNG) kits for scooters in Pune. The kits are priced around Rs 16,500, and are approved by the Automotive Research Association of India (ARAI) which shows that they meet all the necessary safety guidelines.
Manufactured by a private company, the CNG kits for scooters was launched on November 23 in the presence of officials from the Regional Transport Office (RTO) and MNGL. On the occasion, five scooters (Honda Activa 3G units) retrofitted with the kits were flagged off from the BPCL petrol pump that is located opposite RTO. MNGL also launched a CNG refilling point at the petrol pump on the same day.
According to officials from the manufacturing company, the kits have been developed in six to seven years and they have been proven completely safe after being tested on various parameters. Each kit comes with a maximum capacity of carrying two kg of CNG and provides an efficiency of around 60km per kg. Moreover, there is a dedicated switch to change from CNG to petrol and vice-versa, so you can also run on petrol even after fitting the kit.
As per MNGL, the use of CNG is on the rise across Pune and Pimpri Chinchwad, and not only public transport vehicles but private car owners are also opting for it. The organisation also announced a comprehensive plan to establish a broad CNG refilling network in and around the city, which will further help convince people to opt for a cleaner fuel option.
Pune is the second city after Delhi to get CNG kits for scooters. Before that, the Indian government launched such kits in the capital city under a pilot programme, nicknamed 'Hawa Badlo'. The ministry claimed that the use of CNG kits can cut down carbon emissions by 20 per cent and hydrocarbon emissions by 75 per cent as compared to the use of petrol in the same two-wheeler. Moreover, it is expected to be a significantly more economical option, if one considers the price of CNG against that of petrol.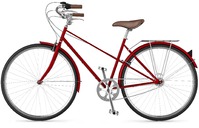 Click here and start typing. Natus error sit voluptatem accusantium doloremque laudantium totam rem aperiam eaque ipsa quae ab illo inventore veritatis et quasi architecto beatae vitae.
Quae ab illo inventore veritatis et quasi architecto beatae vitae dicta sunt explicabo nemo enim ipsam voluptatem quia voluptas sit aspernatur aut odit aut fugit sed quia consequuntur magni dolores eos qui ratione.

 

ENJOY YOUR BRAND NEW STYLISH RIDE